Beaches, rivers, scenery, heritage, and history, Youghal has it all.
With an ever increasing number of local festivals and events there is always plenty going on in the town and choosing to stay in one of the most conveniently located hotels in Youghal offers a great opportunity to enjoy easy access to all of these and the many more events throughout East Cork and West Waterford.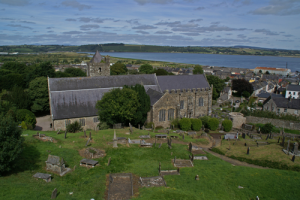 Youghal is a designated Heritage Town and there are a number of organized walks which guide visitors through the town's historic buildings and fortifications on Youghal's Heritage Trail. Guides are available from reception and further details are available from the local tourist office.
The hotel itself is located in the heart of the town, at the foot of The Raleigh Quarter, named after its most famous inhabitant Sir Walter Raleigh.
The Raleigh Quarter, plays host to the spectacular 800-year-old St Mary's Collegiate Church and Gardens and is also the site of the Boyle Family Tomb (Richard Boyle, the 1st Earl of Cork was the richest man in Great Britain and his son Robert the father of modern chemistry, creator of 'Boyle's law').
The Information Centre is located just inside the gates of St Mary's Collegiate Church to assist with any queries you may have while visiting the Heritage Town of Youghal.
YOUGHAL WALKING TRAIL
Click here to download the Youghal Walking Trail Guide & Map
Other activities in the area
Our front desk team are all natives of East Cork/West Waterford and are only too delighted to share their wealth of knowledge to ensure you make the most of your stay in the area. Please ask at reception if you would like us to book any activities.
Golfing
Tennis
Greyhound Racing
Horse Riding
Coarse Fishing
Sea Angling
Pitch & Putt
Hill Walking
Canoeing
Sailing
Scuba Diving
Cycling
Wind Surfing
Water Skiing
Perks Family Entertainment Centre
Leahy's Open Farm
Ardmore Open Farm
Wild Food Foraging Trips